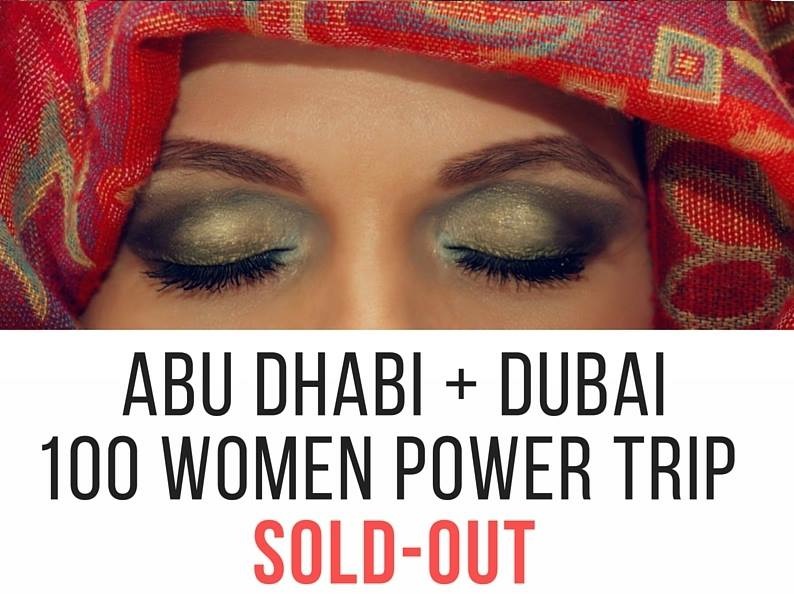 A week ago, I led a group of 100 bad ass spiritual women to the United Arab Emirates.  We hopped on an Airbus 380 jetliner from JFK and Washington/Dulles non-stop to Abu Dhabi.  Some call it Abu Dhabi, I call it Abu WOW!
I'm talking hi-tech boss babes, judges, lawyers, doctors, nurses, ministers, savvy business women, congressional staffers, policy experts, fashion gurus and designers.  There was networking across industries and priceless discussions about being a boss, being a brand, being a feminist, and being a rebel.  Mothers brought daughters and daughters brought mothers.  Sisters across the D9 were represented.  That's how I roll.  
Cooler still, the entire entourage—from the pilots to the ground crew to the photographers—were women. Kinda.  If you count Janetta, Shirley or Lisa who took-over the cockpit of the Dreamliner 777 flight simulator during our VIP behind-the-scenes tour at Etihad headquarters.
What ensued was 5 days of networking, brainstorming, laughing, thinking, and being whisked to some *insane* magical experiences.  On Martin Luther King Jr. Holiday, the women found time to be of service and partnered with the Emirates Autism Center, founded by a remarkable women, Amal Sabry under the patronage of His Highness Sheikh Nahyan Bin Mubarak Al Nahyan.  Before leaving, the Founder, presented me with an amazing art work made by one of the students.
The power trip culminated at our very own private safari camp with a night of fast and furious dune bashing, belly dancing, henna painting, camel riding and a delicious BBQ buffet.  Just before we left the camp in our 4x4s, the lights went out, we looked to the midnight sky as the stars aligned in our favor.
In next week's blog, I'll share what I learned spending 5 days with 100 women in the Middle East.  You'll be surprised at what I have to say! Check back next Wednesday on 2/8.